Growing Hellebores
Hellebores are not difficult plants to grow.
To help you get the best out of your plants, here are a few brief tips on growing Hellebores:
• Hellebores do need shade in summer. But try to avoid planting them in very dense, permanently shaded positions. They will grow and flower more prolifically if they get good light in the cooler months. Planting under or near to deciduous trees can often provide such ideal growing conditions.
• Hellebores main growth period is from about mid Autumn to mid Spring. This is also the best time to plant, divide, move and feed Hellebores.
• If you buy Hellebores in Winter when in flower you should plant them as soon a possible so that they have the chance to establish themselves before summer.
• Hellebores like well drained conditions but will struggle in very sandy soils.
• While they are tolerant of most soils a well mulched deeply dug spot is best.
• Feed with a complete fertiliser after growth starts in late autumn and mulch in spring.
• For Helleborus x hybridus cut off the old foliage as the new flower buds begin to emerge in late autumn. This will show off the flowers more effectively.
• For taller species such as Helleborus argutifolius and Helleborus foetidus, cut off the old stems after flowering has finished in Spring.
Click on the links below for additional information (all in PDF format) about growing Hellebores:
(the one we hand out at Plant Fairs and supply with mail orders)
(in paragraph form, not dot points)
(based on the most common questions we get at the Plant Fairs we attend)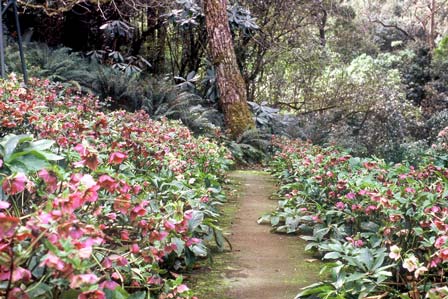 < Stunning massed planting of Helleborus x hybridus at Glen Rannoch, Mt Macedon.