Television
A nice feature story on Peter Leigh and Post Office Farm Nursery (and Hellebores) from ABC Gardening Australia program which was aired in July 2018, click here to see the story.
An earlier ABC Gardening Australia feature on Peter Leigh and Hellebores which was broadcast in June 2009, click here to see that story.
Newspapers and Magazines
An article by Peter Leigh about Hellebores published in the gardening section of the Melbourne Age on Saturday July 12 2008.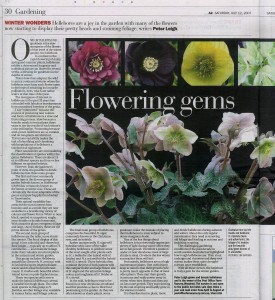 Another longer article on Hellebores published in the Winter 2010 edition of Your Garden magazine.
Click here to view a PDF file of the article.
A more recent article from The Age/Sydney Morning Herald (published July 2018) featuring Peter Leigh and Post Office Farm Nursery, click here to see.
Books on Hellebores
C. Colston Burrell and Judith Knott Tyler, Hellebores a comprehensive guide, 2006, Timber Press.
The most recent book on Hellebores, recommended.
Brian Mathew, 'Hellebores', 1989
Still the definitive botanical monograph on the genus. Unfortunately has been out of print for many years. Hard to find.
Graham Rice and Elizabeth Strangman, 'The Gardeners Guide to Growing Hellebores', 1993
Still available I think. A good general guide to the genus.
Graham Rice, 'Hellebores' (RHS Wisley Handbook series), 2002
Small but good paperback guide to Hellebores and still available.
Gisela Schmiemann and Josh Westrich, 'Helen Ballard The Hellebore Queen', 1997
Some lovely pictures of Helen Ballard's named forms
Marlene Ahlburg, 'Hellebores', 1993
Also out of print I believe.
Links
The UK:
 The USA:
General Hellebore links:
www.groups.yahoo.com/group/hellebore
www.gardenbuddies.com/forum/messages/12648/12648.html
Other links:
Antique Perennials – Highly recommended growers of choice and rare perennials
The Royal Botanic Gardens Melbourne